The Options Menu enables you to adjust various settings of the program.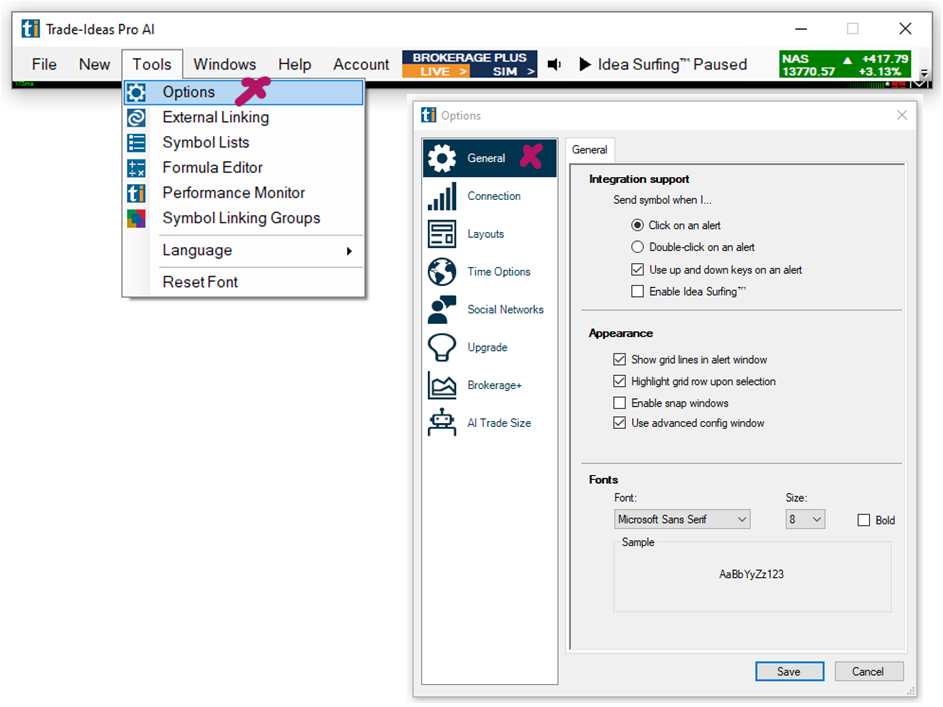 Integration Support
Here, you can choose if the symbol displayed in a Trade Ideas Window will be sent to other linked applications or windows, like a Chart or a Single Stock Window with a single click or a double-click.
Furthermore, you can decide whether you would like to be able to use your up and down keyboard keys to toggle through alerts.
Lastly, you can enable or disable Idea Surfing.
Appearance
Here, you can choose if your Alert and Top List Windows are displayed with grid lines or without them.
In addition to that, you can check or uncheck if the entire row of an Alert or Top List Window will be highlighted upon selection. This option is useful if you would like to copy and paste an entire data row into a spreadsheet. If you would like to be able to highlight and/or copy and paste individual columns or cells, uncheck this option.
When Snap Windows are enabled, the program will try to close any gaps between windows. If gaps between windows are desired, this option should be unchecked.
By default, the Advanced Config Window is enabled for all Alert and Top List Windows and can be accessed via the right-click Menu under Configure.
If this option is disabled, a very limited Config Window will be presented when selecting Configure via the right-click menu. Here, you can only customize the minimum and maximum price of stocks to scan for as well as the minimum average volume. Additionally, you can change the strategy name and choose an entirely new strategy. You cannot add alerts and filters, symbol lists, or make a selection of which exchanges will be scanned or which columns will be shown. You can, however, always switch to the Advanced Config Window by selecting the Advanced Button.
Fonts
You can customize the look and feel of our program by selecting your preferred font size. You can choose from a variety of fonts, increase or decrease the font size or make it bold.
If you are unhappy with your font settings, just go to Tools Tab of the Toolbar and choose Reset Font from the dropdown to restore the default.
The default Connection Type is Primary. This connects you to our main server bank and is generally the fastest connection. The Primary connection requires connection over the specific Port 8844, which might be an issue depending on your network.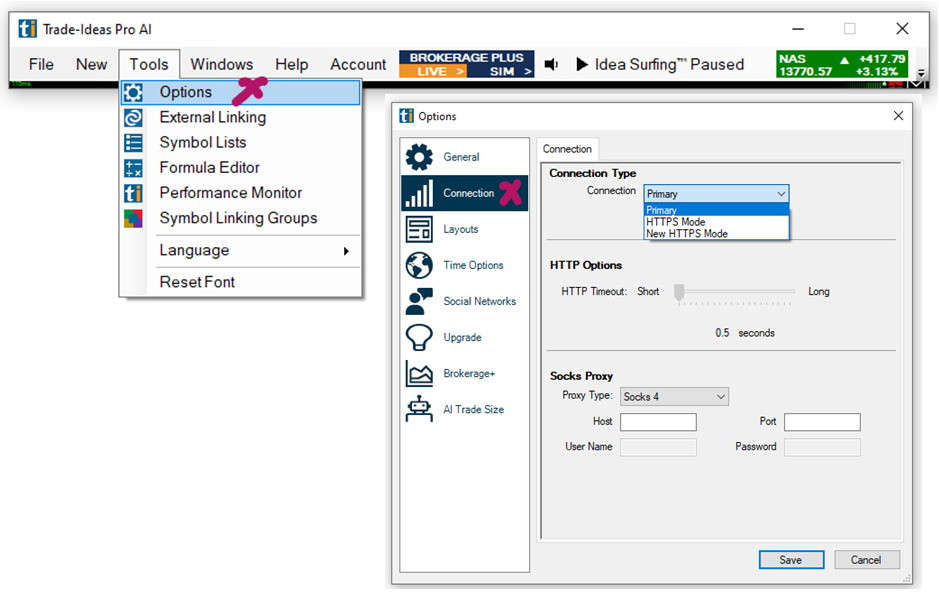 If you are experiencing connectivity issues due to being on a controlled network (Firewall, Antivirus software, ISP settings, Hotspot) select HTTPS Mode. This way, you connect over the standard web browser available ports. Meaning, as long as you are able to browse the internet on your network, you will also be able to connect to Trade Ideas. HTTPS Mode and New HTTPS Mode both use the same port configuration, standard secure Web Port 443.
Whenever you make changes to the Connection Type settings, you have to reset your connection. To do so, choose the Accounts Tab from the Toolbar and select Reset Connection.

Save layout on exit
Here, you can choose whether the program automatically always saves the open layout, never saves the layout, or prompts you, if you would like to save the layout on exit.
Loading layouts
When the option Open relative to main window is selected, all other layout items (Channel Bar, windows) will always open relative to the lower left-hand corner of the Toolbar. With this option enabled, it is easy to move your entire layout to a different monitor. Simply place your Toolbar on the monitor of your choice, then reload your layout.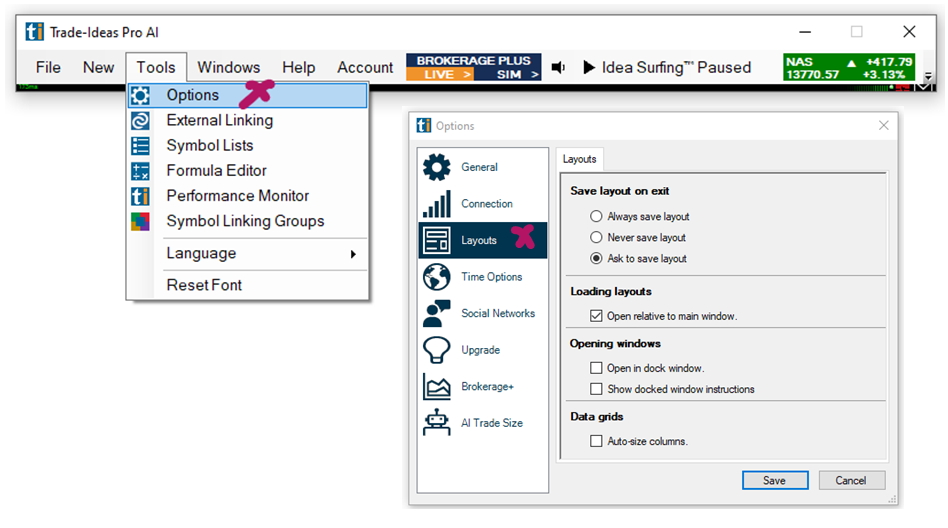 Opening windows
You can choose if you would like new layout items to always open in a Dock or free-floating.
If you would like all newly opened windows to automatically open in a Dock, check the option Open in dock window.
If you leave this option unchecked, you will still have the ability to manually create Docks.
Here, you can choose your own Time Zone or any other Time Zone you would prefer the software to operate with.
If your Brokerage account is connected to Trade Ideas via API, make sure that your PC's Windows Operating System, the Trade Ideas software, and your Broker's platform are all set to the same time settings and regional formatting.
Please note that a restart is required for any Time Zone changes to take effect.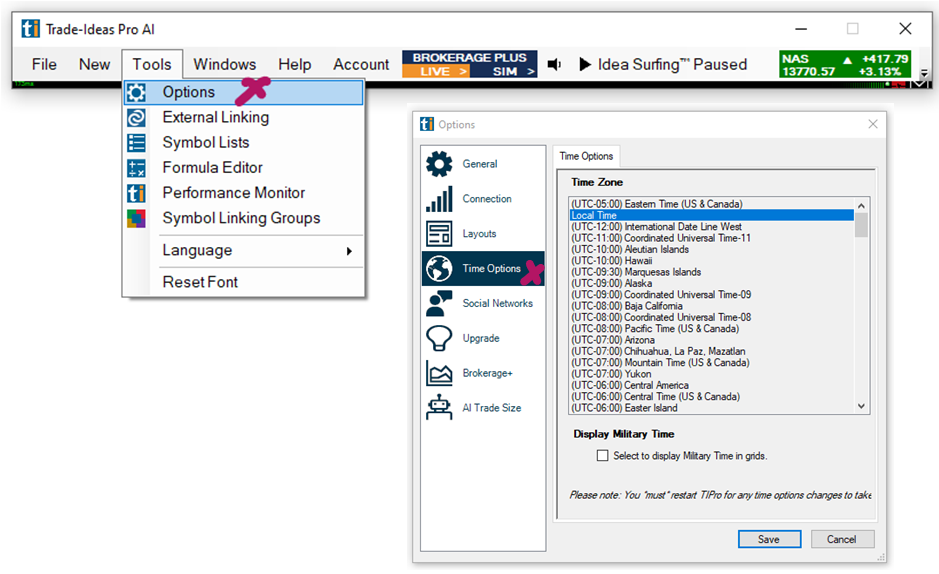 Our Collaboration feature allows you to share your scans, price alerts, charts, and other Trade Ideas Windows with your friends and followers on Twitter. To connect to your Twitter account, click the Twitter icon, then enter your Twitter username and password and authorize our TI Pro Collaborate App. After logging in, copy the PIN above into the box on the bottom left-hand side. Then click Confirm.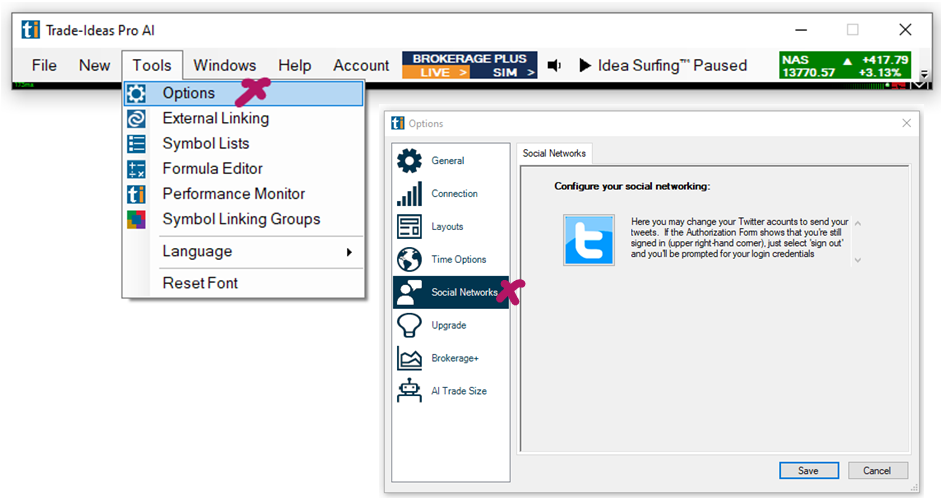 The New Tab of the Toolbar will turn green whenever there is a new version of the software available. In the Show Me section, you can specify if you would like to be informed of All Releases or Production Releases Only.
The Upgrade Now button will open our Download page in your browser window.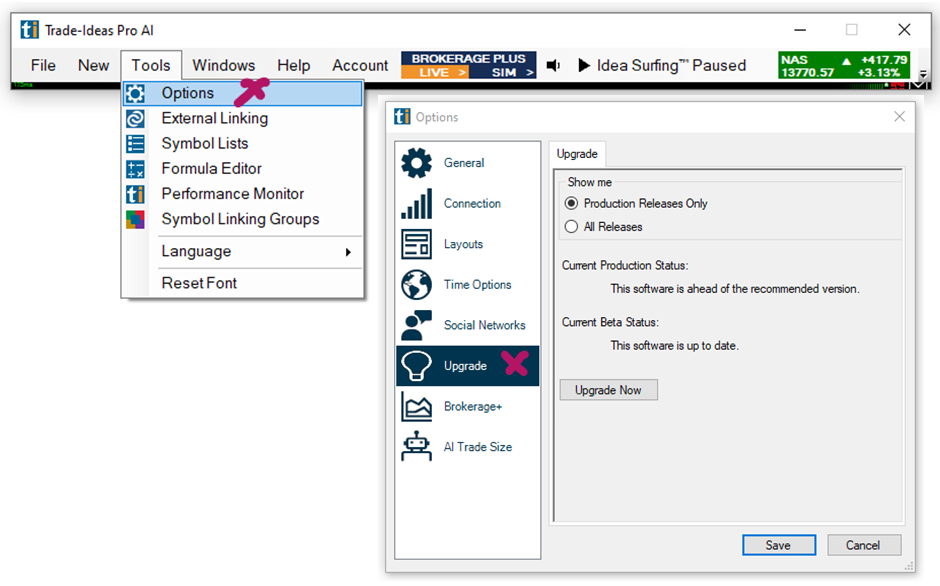 By Default, the Risk Size for all Holly AI trades and calculations is set to 100 shares per trade. This setting can be adjusted to reflect your personal investment style.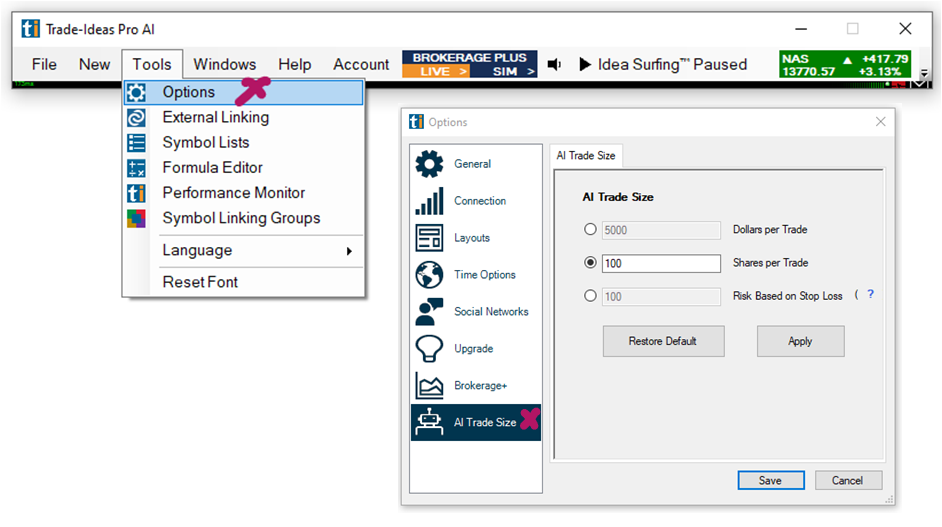 You have the choice between defining Holly's entry parameters based on Dollars per Trade, Shares per Trade, or a Risk based on Stop Loss.
Dollars

If you entered $2000 as the amount and the stock price is $20, Holly will buy 100 shares. If the stock price is $40, she will only buy 50 shares.

Shares

You can enter a fixed number of Shares per trade to buy or short.

Risk

If you choose to risk $100 and Holly's algorithmic stop loss per trade is $0,20, she will buy 500 shares per trade.

Default

By Default, the AI Profit & Loss is based on 100 shares per trade.
These settings will be used to calculate the Profit & Loss in the AI Trades Window, the AI Strategy Trades Window as well as the Holly AI Tab within Brokerage Plus. The Channel Bar Icons, on the other hand, will always display the Profit & Loss based on 100 shares per trade.