The Trade Ideas Cloud feature allows you to save, load, and share your personal layouts and strategies, making worries about computer crashes a thing of the past. You can access your cloud from any computer, so using multiple devices is trouble-free. Please note, however, that you can only be logged into one instance of the program at a time. In addition to saving your layouts and strategies, our cloud feature also lets you share them with others with one simple click.

The Load from Cloud Window displays the name, the time and date, the file type as well as the number of windows an item contains. Click on a header, to sort by it.
The search field at the top, as well as the filter function to the right, make the retrieval of specific items easy.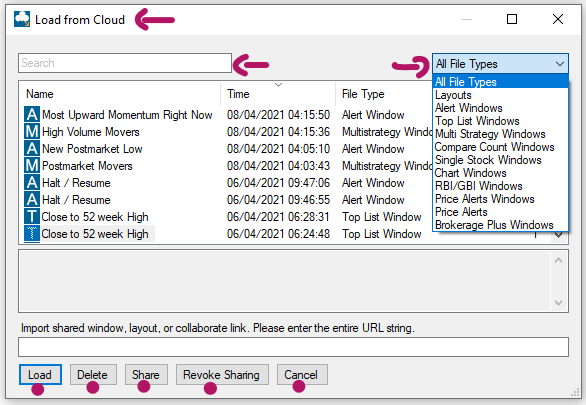 Once you have selected an item, you have the choice of loading, deleting, or sharing it. In addition to that, you can revoke the sharing of any previously shared layouts or strategies.
There are various sharing options:
Scan the QR code

Select Copy All, to save the Cloud link to your clipboard and paste it into an email or messaging app.

Click the Twitter icon and include a text message if you like.
To load a Cloud link that someone has shared with you, paste the URL string into the Import field. Then select Load.
To exit the menu, select Cancel or click on the X in the upper right-hand corner.