Statement About Filter Change
Statement About Filter Change
On August 13, 2023, we made a change to the calculation for our Change in X Minute % filters.
There was a good reason for this which I want to outline here, but the way we handled this was really poor and I want to personally apologize to our users and spell out in no uncertain terms what you can expect from us in the future.
We realize how many traders rely on Trade Ideas for rock-solid, reliable alerting. There are a large number of traders with a variety of trading styles and timeframes that use Trade Ideas as the foundation for their trading businesses. I have been told personally by many customers that their trading business literally wouldn't exist without Trade Ideas.
I personally relish the pressure that comes with our customers' high expectations of us. Those expectations are THE driving force throughout our organization for everything we do.
This one slipped through the cracks and here's what we're going to do about it.
No more changes that will alter strategies like this one did as long as I'm in charge of the tech.
Any changes to the platform will be clearly communicated via the Trade-Ideas Change Notification Email List available below. Anyone can sign up and it will not be used for marketing of any kind – only for changes, new features, etc.
Feel free to contact me at any time with questions or concerns. My DMs on Twitter (X) are open and my email is dmabe@trade-ideas.com.
I'd like to personally thank everyone who reached out to me about this issue, especially Kris Verma. The feedback we get, good or bad, always serves to make us better and I appreciate getting it.
More Background
Here's more information about why we made the change.
The Change in X Minute % filters were inadvertently implemented years ago with a non-standard formula for the calculation.
The formula was:
price change in X minutes / current price * 100
Of course, the standard way to calculate this value for most traders is:
price change in X minutes / (current price - price change in X minutes) * 100
While this formula is not really "incorrect" it was non-standard and different from other Change % filters in our platform.
Because of this, over the years it has caused confusion for new users, support, etc.
We have an initiative to add a lot more detail to the help for each alert and filter (coming soon). As part of that process, we decided to shore up this inconsistency.
The vast majority of users aren't affected by this change, but that is irrelevant for the purposes of this statement. Any alert or filter change at all—no matter how tiny—will be communicated in plenty of time for traders to adjust.
How to Revert to the Original Formulas
If you'd like to use the original formula for these calculations, you can still do that using a Custom Formula.
For example, if you want to use the original formula for Change in 1 Minute %, use the following calculation in your custom formula:
[DUp1]/[Price]*100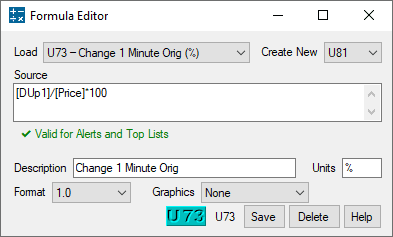 For Change in 5 Minute %, using the following formula:
[DUp5]/[Price]*100
etc.
Dave Mabe
Chief Technical Officer, Trade-Ideas
davemabe.com
Twitter: davemabe