Trade Ideas on the Web has most of the latest features found in the Trade Ideas for Windows Download. You get started fast with our real-time data because there's nothing to download or install. TI on the Web is compatible with most web browsers on most platforms including Mac and Linux.
Trade Ideas Pro AI stock scanner is a downloadable, MS Windows application version of our industry leading real-time stock scanner alerts software. It is specifically designed for the power user who demands more than the web based front end can offer. The Trade Ideas Pro AI stock scanner offers faster access to the array of statistic analysis servers in the Trade Ideas data center.
Download the latest production version of Trade Ideas Pro AI, Version 5.6.24
The current release works with both 32-bit and 64-bit
This includes some new features which may need additional testing and some improvements to their appearance.
Minimum: 
Windows 10
32 bit system bus
1.5 GHZ CPU (dual or quad core)
4 Gigs of RAM
Preferred:
Windows 10
64 bit system bus
2.0 GHZ CPU (dual or quad core)
8 Gigs of RAM
Ideal:
Windows 10
64 bit system bus
2.5 GHZ CPU (dual or quad core)
16 Gigs of RAM
Changes in 5.6.24 (10/26/2022) since the Release of 5.6.9 (09/08/2022)
Real Time Stock Races now smoother than ever. New browser mode is now available.
Chart Window Updates:
Candle Comparison Charts: Fixed error when selecting between Comparison modes
Fixed chart area indicators overlapping.
Added warning messages on Chart Type when switching between Comparison Symbols Price and Percent modes
Fixed issue where there was empty padding on the right side of large (full screen) charts.
Automatically closes the share chart dialog, once the tweet is sent.
Add Show Trade History Option with the option to select All orders, Today's orders, or Most Recent Orders.
Single Stock Window Updates:
Change the window to honor the user font selection. The following tabs will honor the user font selection: News, Profile, and Details.
Use Market Data Service

Update Last Price
Include Last Price Conditional Display on Pre and Post Market

Fixed Position in range filters not updating.
Columns using cones or cylinders in the Details tab will refresh correctly.
Add Change from Close columns
Added "Change from Close $" and "Change from Close %" columns to AI Strategy Trades and Brokerage+ Positions grid windows.
General Updates:
Replace $SPX with SPY in the Indices panel of the main toolbar.
Show the value of the last price in the Price Alert form when the user clicks on the Price Alert bell icon in the Chart window.
Add reference lines for the user, in the Chart window, when in Placing Order Mode.
Fixed saved layouts not retaining window position and size.
Fixed issue with MarketDataClient throwing exception.
Fixed issues that can cause repeated exceptions upon loading layout during restart after terminating TIPro. Applies to Top Lists and Real Time Stock Races.
Address several sorting issues in Top Lists.
Added Logo, PnL and Current Positions to the status line in the Charts window.
Optimize News updates in the Single Stock window.
Added rolling time period option to the Market Explorer window.
Fixed issue displaying symbols that contain a plus sign in data grids.
Modified Top List Form to skip adding additional columns to data grid when in history mode.
Update the data of the Strategy Trades windows, in historical mode, when changing the position size configuration.
Corrected Trade Ideas stealing focus.
Fixed TIPro freezes when opening AI - docked channel
Fixed Unhandled exception during TIPro shutdown.
Fixed exception when user enters the collaborate string from an Alert window into a TopList collaborate window.
Corrected formatting of last price in Top List windows.
Resizing or scrolling a frozen Top List window should not cause the Top List window to update data.
Brokerage Plus Updates:
Fixed bug causing positions and data to not display correctly.
Changes to AI Trading Instructions Form for allocation profiles to be better reflected in the GUI.
Fixed issue with the Account Allocation form not using the user selected font settings.
Added better support for allocation profiles.
Replaced Brokerage Plus default file so that the Time In Force settings for the default chart long and short strategies are Day.
Fix exception when editing a strategy trade in Brokerage Plus where an account had been selected but the broker with that account is not currently connected. Under the above conditions the account name saved will appear in red with the following text appended to the account name: - Broker not connected.
Fix issue where users cannot select their ETrade accounts.
P&L chart in the Positions grid is flat lined if using a Non-US Regional format.

Fix issue where the Profit chart was displaying incorrectly and several position columns had bad data.
Additionally, fixed issue where periodic market data was incorrectly parsed.
Real Time Stock Racing Updates:
Adding Dark Mode option.
Made track background color a darker grey.
Added Lane Size setting to menu.
Added lane sizing logic to race lane.
Added Sharing capability.
Made color adjustments to race setup and other controls for dark mode.
Fixed issues with changing lane size while race is running. Changed dark mode background color.
Made show company logos default and removed setting.
Hid track bar and shortened form. Changed "Replace Cars" setting to "Replace Symbols".
Changed "REPLAY MODE" label to have white text when in replay mode.
Changed saving of dates in layout to support any time zone.
Modified controls to not disable Play and Replay buttons when the opposite type is running. Now the user can click either button and it will stop the other type of race (Live or Replay) from running and start the one that is clicked. Added tooltips to Play and Replay buttons.
Added new image and tooltip to Add/Edit Symbols button and also anchored to the right bottom.
Added Configure button with gear image to form. Both Configure button and Configure menu option now open the Simple/Small configuration window.
Modified the Small Config Window to have a Race Config Mode. When true, the Small Config window will hide the "Select Base" tab and use the "Current Settings" from that tab. Also, added "Min Volume Today" input field to the "Customize" tab.
Modified Small Config Window to use Volume Today in Shares instead of Percent for new Min Volume Today field.
Created a new Race Launcher form that is called from the New->Real-Time Stock Race menu item. This new form launches races from cloud links.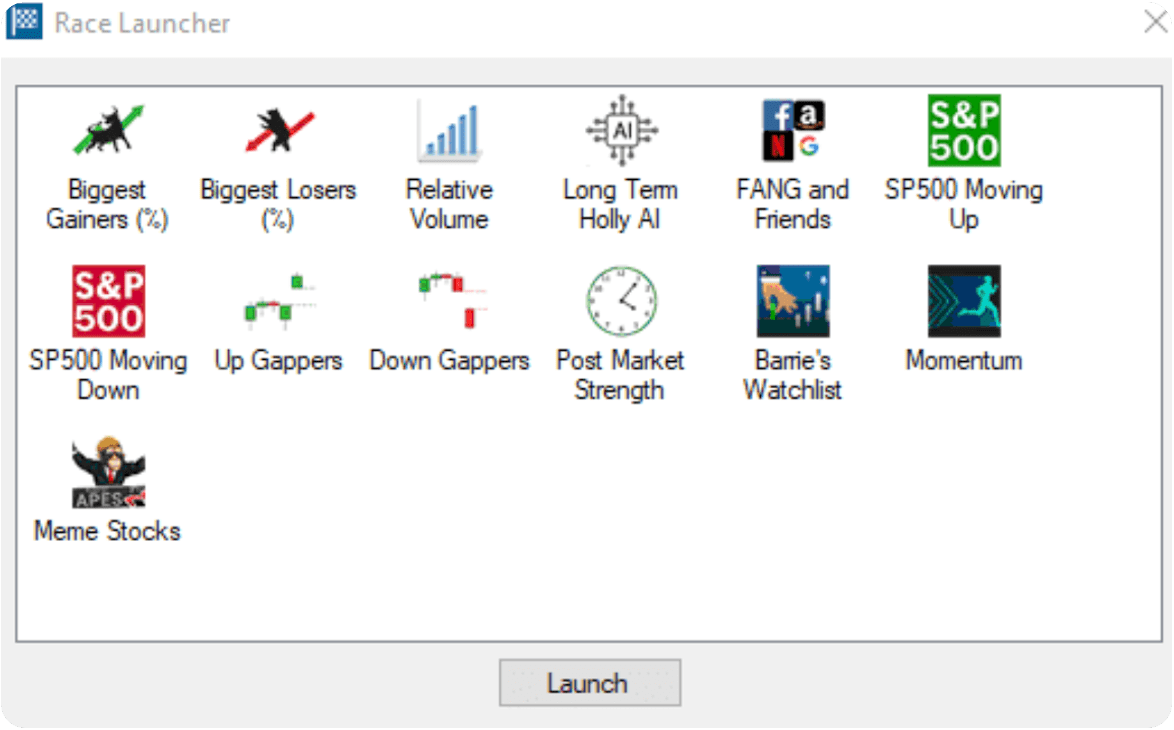 Added image resizing to Race Launcher and Race Setup images.
Corrected Real Time Stock Race displaying incorrect Last Winner in finish line.
Fixed Non-US number format leads to errors in stock race display.
Price Alert to trigger after hours option should retain last setting used as future default
The price alert trigger retains the last value used in the after hours option as the default value the next time it is used.
Adds the retention of the last value selected for the property "trigger alert after hours" when creating the price alert from a chart window.
Arrows on Premium AI Long Term Strategy Trades window move page by page rather than stock by stock
Modified navigation arrows (left and right) to move by the number of displayed charts instead of just one. Navigates to next page of charts.
Fixed issue with right navigation arrows being cut off when opening new Long Term Strategy Trades window using new layout file.
Replaced DEFAULT_STRATEGY_TRADES.WTI so that Long Term Trades when shown are not cutoff.
Columns widths change when sizing window
The width of the columns, in Top List windows, is maintained when resizing the form, when Autosize columns are enabled and disabled.
Fixes existing issue when loading a Top List window with the Auto-Size Columns option unchecked and resizing the window.
Download the newest public Trade Ideas Pro AI Beta, Version 5.6.26
The current release works with both 32-bit and 64-bit
This includes some new features which may need additional testing and some improvements to their appearance.
(Includes the new Real-Time Stock Racing)
*A machine reboot may be required following the installation of
this version prior to starting or restarting the software.
Minimum: 
Windows 10
32 bit system bus
1.5 GHZ CPU (dual or quad core)
4 Gigs of RAM
Preferred:
Windows 10
64 bit system bus
2.0 GHZ CPU (dual or quad core)
8 Gigs of RAM
Ideal:
Windows 10
64 bit system bus
2.5 GHZ CPU (dual or quad core)
16 Gigs of RAM
Changes in Beta Version 5.6.26 (11/15/2022) since the release 5.6.24 (10/21/2022):
Changing scans breaks the Market Explorer. Clear the binding list of the ME grid during the Restore method. This clears the old strategy data before loading the new strategy data.
External Linking to StockCharts.com no longer working. Fixed.
Reduce Time to Close Windows with Browser Component. Fixed.
Corrected Exception in TopListForm around Symbol+ Column.
Fixed Exception in Charts when loading the Long Term Holly AI.
Improved the responsiveness of the Details tab in the Single Stock Window
Allow 64 bit installation of TIPro on Windows running on Apple Silicon
Unwanted Change from Close Columns (Alert Window and Top List Window)
Fixed unwanted Change from Close [$ and %] columns showing in a TopList in history mode after a change in the configuration using the Config window.
Abbreviated E does not appear when it should.
Fixed issue where Earnings "E" no longer displayed on small charts.