Scanner vs. Screener: What are the differences?
Scanner vs. Screener: What are the differences?
Written by the Millennial Trader
Technology has dramatically changed the world of trading over the last century. Those equipped and fortunate enough to use this technology will excel as traders. Many traders think they are using the best technology but are misinformed. Among the most common misconceptions is understanding the difference between a stock screener compared to a stock scanner. Many vendors confuse the issue by advertising their platforms as scanners, enticing you to earn your subscription, but most of those are just screeners in disguise. 

Scanners are the future of automated trading, yet many people still do not take advantage of them, using screeners instead (the more tedious basic version of a scanner). Traders using screeners have to manually refresh and click constantly to find the data they are trying to find, requiring more time, patience, and energy than need be.
On the other hand, scanners allow for an active, quick, and automated approach. While Trade Ideas offers leading trade alert software features, live trading, and education programs, our company is best known for our real-time market scanner.
Our Trade Ideas software has been on the cutting edge of trading technology for 20 years, as we launched our first market scanner in 2002. Our scanners use server-side technology, which entails a large data center to run the data and crunch numbers so that your computer doesn't have to do the heavy lifting. Because our server farm monitors every transaction in the markets, the user has fewer steps to get through and is notified in real-time, unlike screeners. Compared to the screeners other companies use, our scanner offers instantaneous results (a benefit they cannot match), which is why Trade Ideas is the #1 platform for watching the market in real-time (image below).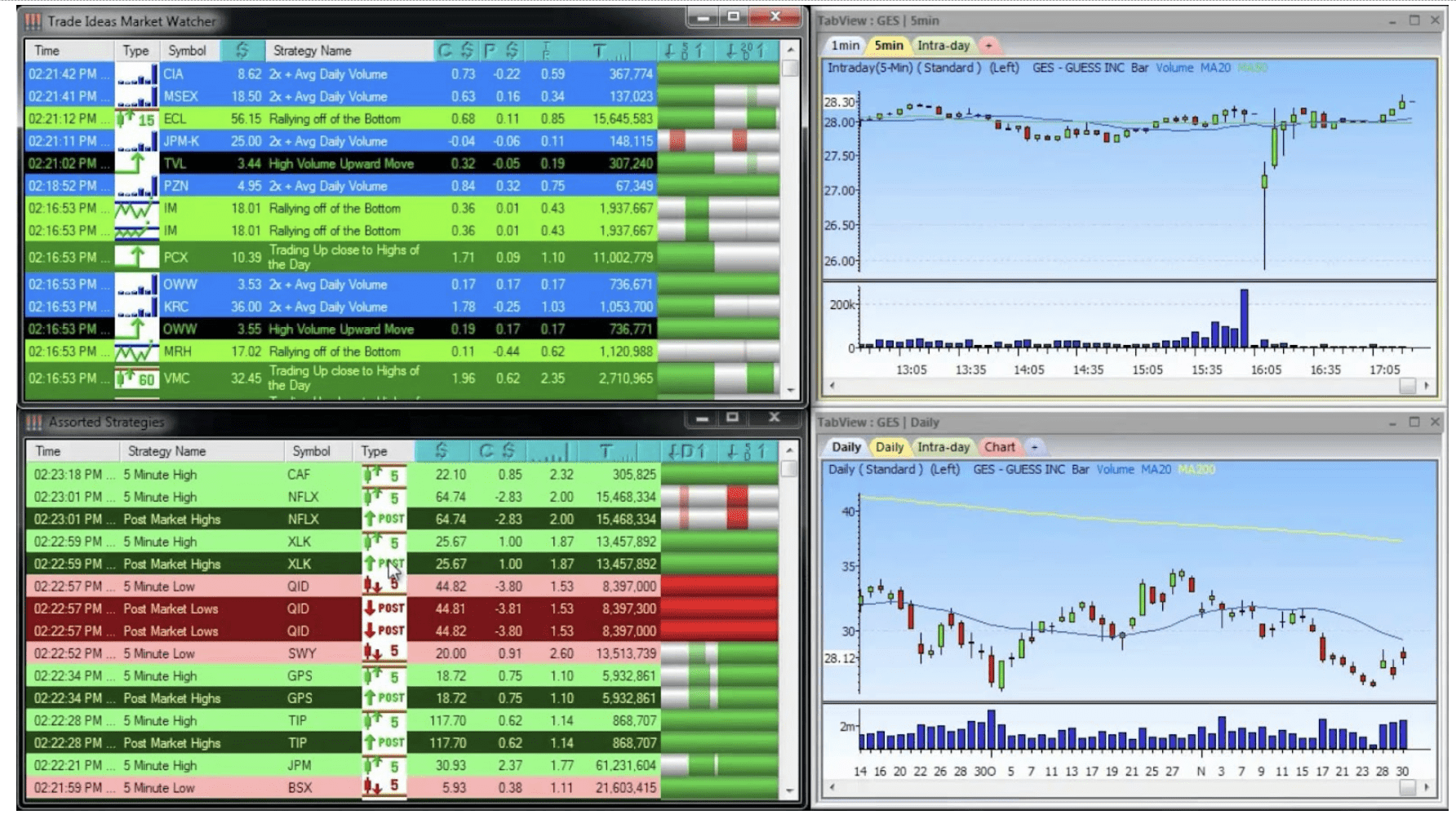 Imagine having to monitor 8000 stocks every second, a fire hose of data coming at you, leaving you overwhelmed trying to search for the data you need—this is where a scanner helps the most. Screeners can still monitor information, but more statically through input/output (scrolling, refreshing, etc.). Scanners, however, do all the filtering for you once you set the parameters of what you are looking to find. After the scanner has the information needed, it will monitor those 8000 stocks (a fire hose of data) to condense it into a more manageable set of data that satisfies your input configurations (narrow stream of data). 
Another great thing about scanners is that they are not limited to a single type of trader; anyone can use them (swing traders, day traders, etc.) Trade Ideas is one of the only companies that use a scanner platform for trading, and we have been doing so successfully for over two decades to get the data needed in real-time. Our company represents the future of trading; without automated scanners, traders could not enjoy new trading innovations, such as our stock races. 
Our stock races could never be displayed or created on a screener—because screeners cannot deliver the constant update of automated information that a scanner can. You can't understand the magic of the scanner without giving it a try for yourself by signing up for the next 2-week test drive that starts October 17th for $11.11 today. Don't make your trading journey harder than it needs to be. Decide to enter the future of trading with Trade Ideas.