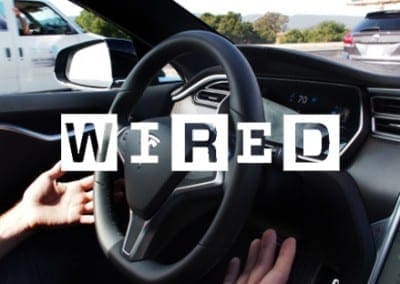 TONIGHT, TESLA MAKES its cars autonomous. Well, semi-autonomous. And it did it with an over-the-air update, effectively making tens of thousands of cars already sold to customers way better.
There are two things to talk about here. There's the small story about the features and what the upgrade actually looks like and how it works. That's a good place to start: This is the biggest change to the visual display of the Model S and X ever. There are new instrument panels, app windows are larger and take up more of the 17-inch touchscreen. Drivers will now get more information about what their cars are doing when in Autopilot, they can lock and unlock their car from the status bar. There's a new clock!
These are simple cosmetic changes. The Big Story is that all of this—and really, who cares about anything beyond autopilot mode?—is being pushed through to customers' Teslas overnight. The update will begin being pushed out tonight, and will hit every Tesla made and sold in the US in the past year over the course of this week.