Trade Ideas for Windows has all the latest features, optimal performance, and access to Trade Ideas real-time data.
Trade Ideas on the Web has most of the latest features found in the Trade Ideas for Windows Download. You get started fast with our real-time data because there's nothing to download or install. TI on the Web is compatible with most web browsers on most platforms including Mac and Linux.
Trade Ideas Pro AI stock scanner is a downloadable, MS Windows application version of our industry leading real-time stock scanner alerts software. It is specifically designed for the power user who demands more than the web based front end can offer. The Trade Ideas Pro AI stock scanner offers faster access to the array of statistic analysis servers in the Trade Ideas data center.
Download the latest production version of Trade Ideas Pro AI, Version 5.5.69
The current release works with both 32-bit and 64-bit
This includes some new features which may need additional testing and some improvements to their appearance.
Minimum: 
Windows 10
32 bit system bus
1.5 GHZ CPU (dual or quad core)
4 Gigs of RAM
Preferred:
Windows 10
64 bit system bus
2.0 GHZ CPU (dual or quad core)
8 Gigs of RAM
Ideal:
Windows 10
64 bit system bus
2.5 GHZ CPU (dual or quad core)
16 Gigs of RAM
Release notes for Trade Ideas Pro AI, Version 5.5.69
Changes in 5.5.69 (02/25/2022) since the release of 5.5.32 (9/10/2021):
Real-Time Stock Race
New Feature - Real-time Stock races
The Real-Time Stock Race is a unique way of data visualization that distills the stock market action down to its essence and combats the information overload many traders face.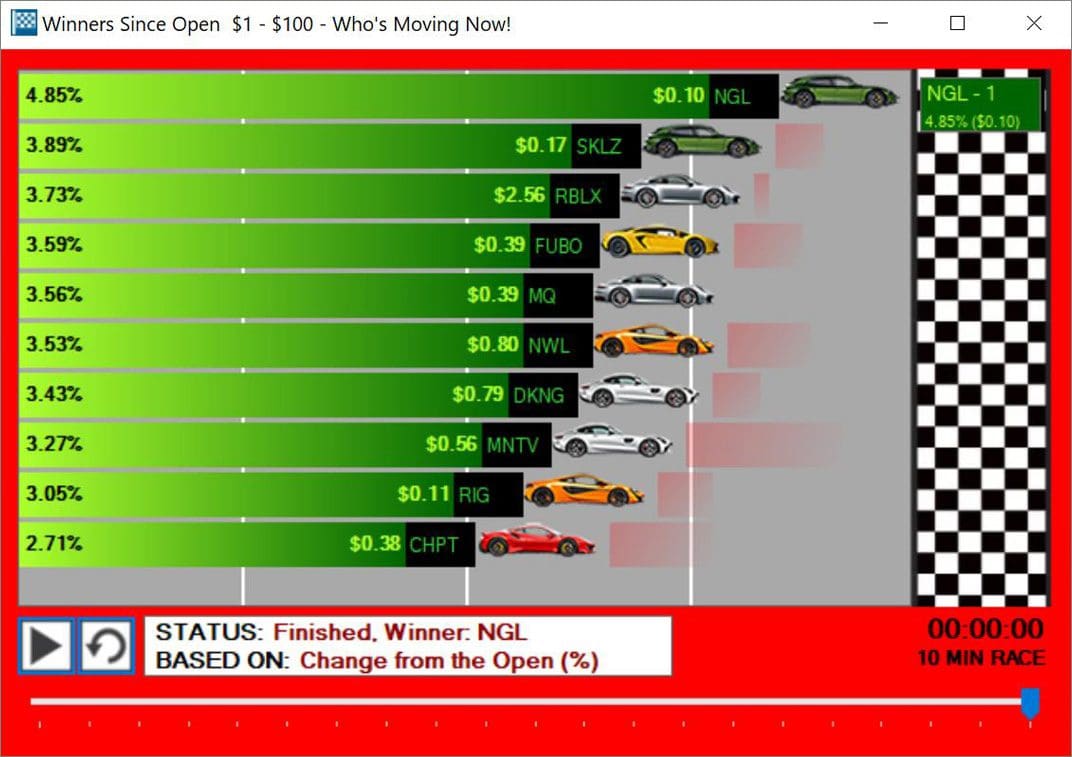 Symbol text color on race car will now be green if the stock is up for the day and red if it is down for the day.
When running based on Volume Today (%), added compliment of Volume Today (Shares)
Reworked delta races to include sorting of race lanes, adding of new race lanes, and calculation of delta values.
Enhanced race finish control (on finish line) to show how many times that car has won and the values from the race lane.
Made all race car symbols same width. Fixed symbol linking on race finish control.
Modified race winners to hide vertical scrollbar and added graphical arrows for up and down above and below winners.
Fixed symbol linking on race winner control.
Modified symbol linking on winner control to work when clicking anywhere on the control, not just the symbol. Modified visibility of up and down arrows for winners. Arrows will only display when needed because there are enough winners to need scrolling. Also, if scrolled all the way to the top, the up arrow is not visible. If scrolled all the way to the bottom, the down arrow is not visible.
Fix to calculation of symbol width on race car control.
Fixed issue causing an index is out of bounds exception.
Click the link below to read all about Real-Time Stock races.
https://www.trade-ideas.help/user_guide/26/26Real_Time_Stock_Race.html?highlight=stock%20races#real-time-stock-race
Chart color customization
New Feature - Provide Chart Styles to allow global chart styles.
Right-click on the Chart and select the Select Chart Style item from the context menu.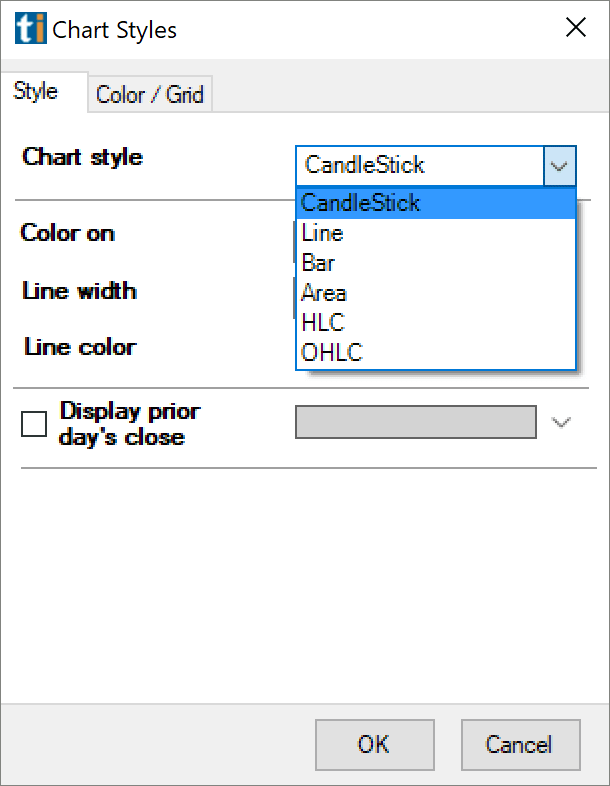 The User can specify Color choice, Line Width, and Line Color.
Colors can be selected from the Color / Grid selections tab.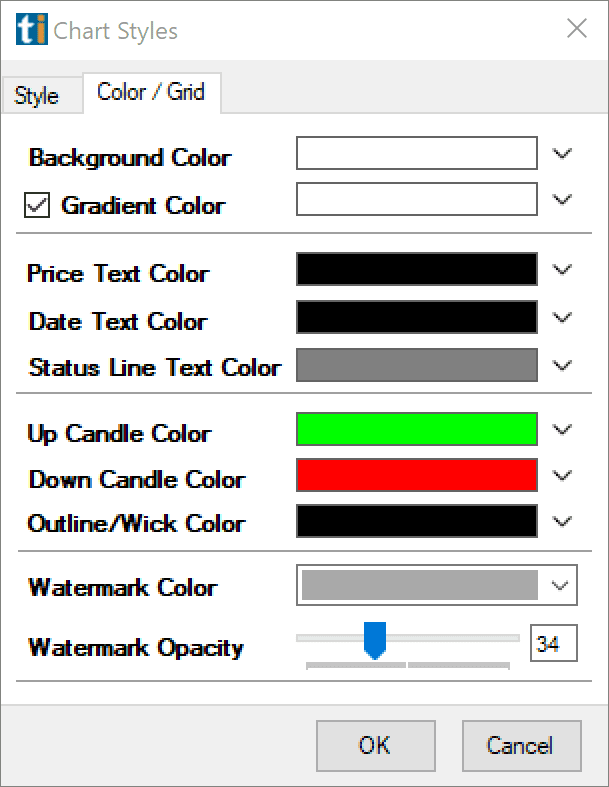 Added watermark slider and ability to set hex color.

Can now set OHLC status colors, Outline and wick colors, and up and down candle colors with color picker
Can now Save all color options as Default.

Updated Chart Style selection to be more readable in Light Theme
For Chart Styles, added readability improvements and fixed issue when zooming out on Line and Area Chart Styles where new candles would be gray
For Chart Styles, resolve issue where Chart Colors are not set on chart refresh. Also persist Line Width between Chart Styles.
For Chart Styles, can now set Line Width with a slider for ease of use.
Replace the Chart menu to open the dropdown horizontally. This change fixes the chart lag.
Fix painting and resizing issues when displaying the Smart Risk levels in charts.
Updated Prior Day Close logic to use Most Recent Close instead, so it will work with 1 and 2 minute bars.
Now using Prior Day Close price rather than Most Recent Close.
Add visual notification to Chart windows for earnings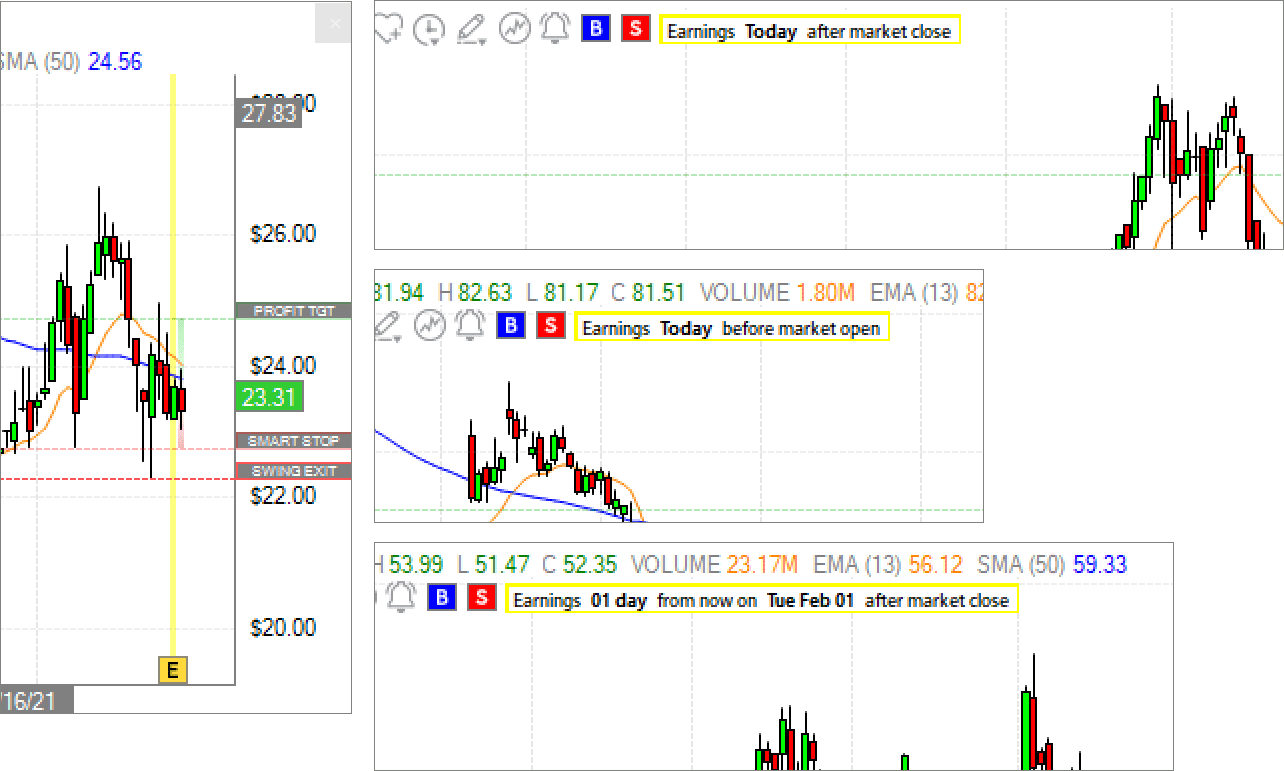 Replace the earnings alert image with the earnings current status.
Made the following changes to Performance Monitor
New Feature - Performance Monitor

The Performance Monitor is a tool we've designed to act as an early warning system when a user may have an excessive amount of windows open which may lead to poor system performance.The performance monitor will also let you know how many TI windows you currently have open. (Toplists, Alert Windows etc.) The performance monitor will change colors depending on how hard your system is working in order to keep up with the workload. Green is good; Yellow is marginal, and Red would mean you might be in a situation that has caused users decreased performance in the past. In other words, too many windows open. The threshold for these settings will improve over time.
Instructions displayed within Docking window when launched
Opening a new Docked Window from the menu will display a window containing instructions.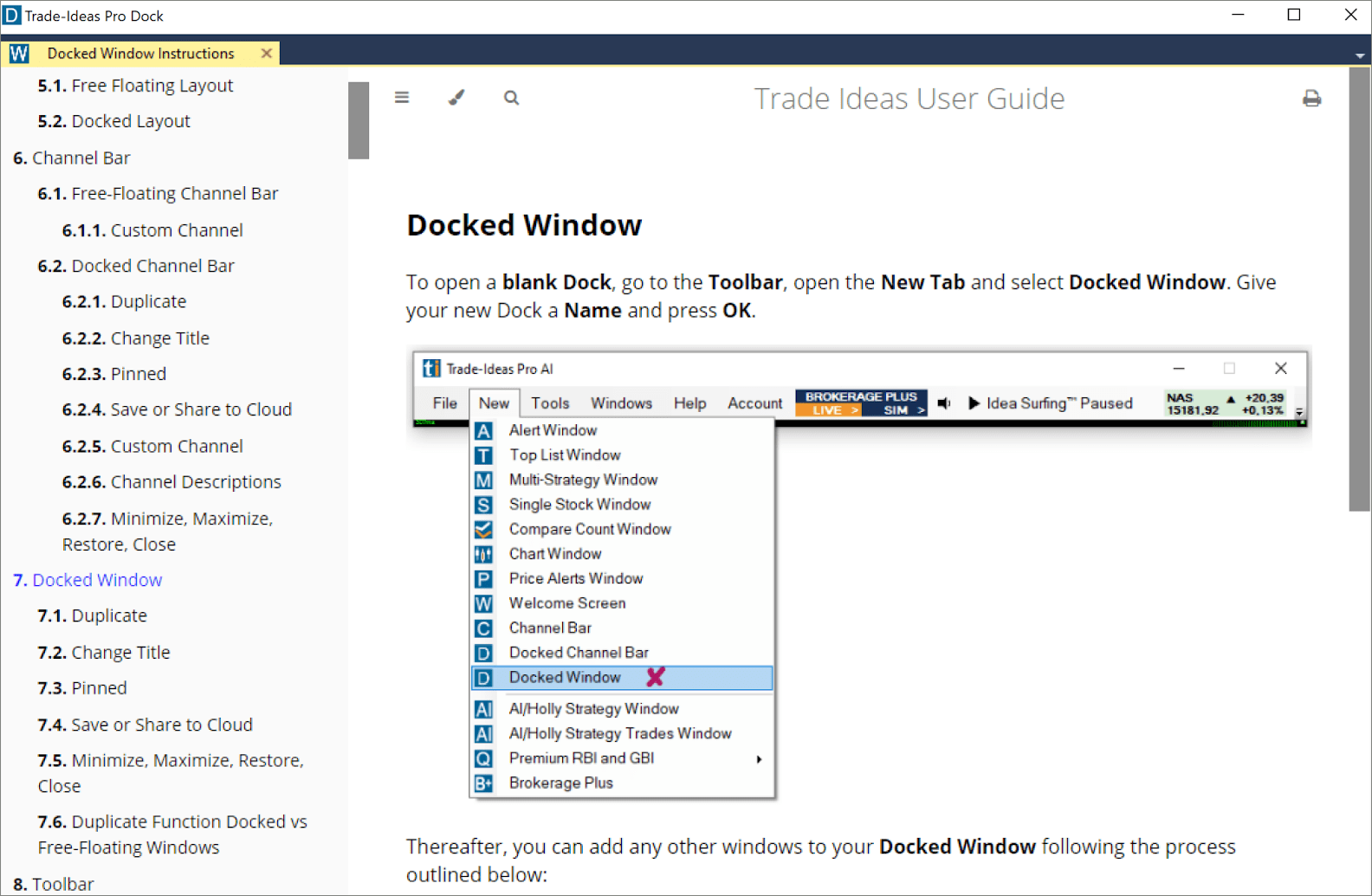 Multiple Symbol linking groups / color coded linking.
We have detailed information available in the TI users guide regarding Multiple Symbol Linking groups.
https://www.trade-ideas.help/user_guide/8_3_3_2/8.3.3.2Symbol_Linking_Groups.html?highlight=symbol%20linking%20groups#symbol-linking-groups
Made changes to OddsMaker trades only display two decimal places for sub dollar trades
OddsMaker trade results will now display 4 decimal places for sub dollar prices.
Changes to order for Brokerage Plus that did not adhere to filters
Changing the date format of the timestamp on log messages in the robot logs. We were previously using a 12 hour format and this switches it to a 24 hour format which will make the logs easier to read.
Allow changes applied to the alert configuration of a strategy via the edit Strategy Trade window to be used in Brokerage Plus.
Made changes to Brokerage Plus % Filters for Entry & Exit Orders (Risk Management Tab) are turned into $ values
The filter list displayed in the combo box controls in the Trading Strategy form for the Stop Loss, Target, and Trailing Stop formulas and the Entry Order Limit Formula contains the filters that have units of dollars and percent. Additionally, we include filters with no units to catch user custom formulas that do not have standard units (In this case we assume they are dollars).
The limit offset controls in the Order Details tab on the Trading Strategy form are disabled when the user selects Filter in the Limit Reference combo box.
Fixed the calculations of the Stop Loss, Target, and Trailing Stop that use filters when the filters have units of percent for trade strategies.
Fixed the calculations of the Entry Order when filters have units of percent and dollars for trade strategies.
Setting to remove decimal component from profit/loss columns
Today/Total Profit Percent values should always show decimals even when "Hide Profit Decimals" is enabled.
Made changes to resolve Loading Brokerage Plus crashes client with "An Exception has occurred. No color Data."
Using a non-standard Windows scaling setting causes the InitializeComponent() method to slow down calling the DetailsControl Resize method to start before some fields are initialized, causing the OrderEntry Paint method control to run before fields are initialized, or causing the PositionGrid tab/window timer to initiate before fields are initialized.
TI Pro Market Data Client
Added Market Data Status to Performance Monitor
Brokerage Plus Maintain Connection Settings Between Sessions
Added saving and restoring of current connected brokers in B+ when saving the layout.
Maintain Connection Settings between Sessions. Modified saving of connected brokers to store in user.config file instead of saved layout. Connected brokers are automatically saved when closing B+ and restored when opening B+.
Added new Brokerage+ tab to Options form with setting for "Automatically reconnect to brokers." The new setting determines if previously connected brokers will be automatically reconnected when starting Brokerage+. Added context menu item to order entry control to open Options.
Fixed issue with auto-reconnect setting not getting set correctly on app launch.
Updated Options Window
Changed images and coloring used on the navigation control on the Options form.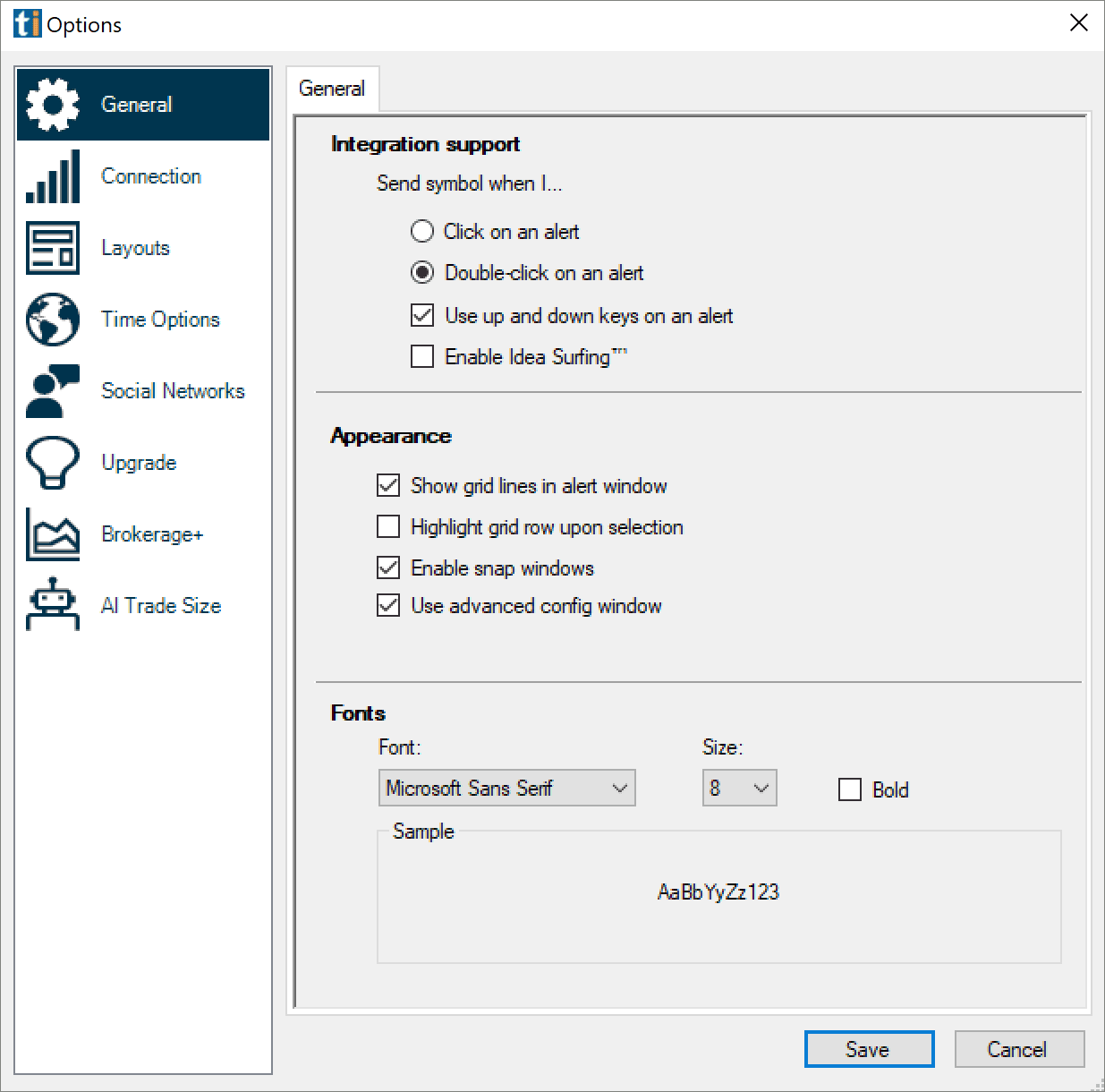 Changes to correct Docked Window with 30+ contained windows producing Exception Dialog
Prevent the user from making the dock panel window too small to view all content.
Formula Editor Changes
Change HTTP Get to Post for syntax checking and saving. This should allow users to syntax check and save long custom formulas.
Modified the edit image to display only when the user has made any changes to the formula. Also add a vertical scrollbar to the source textBox.
Add the Formula Editor as a tool strip menu item to the Tools menu on the main toolbar.
The Formula Editor window will open relative to the main toolbar and in the same screen as the main toolbar.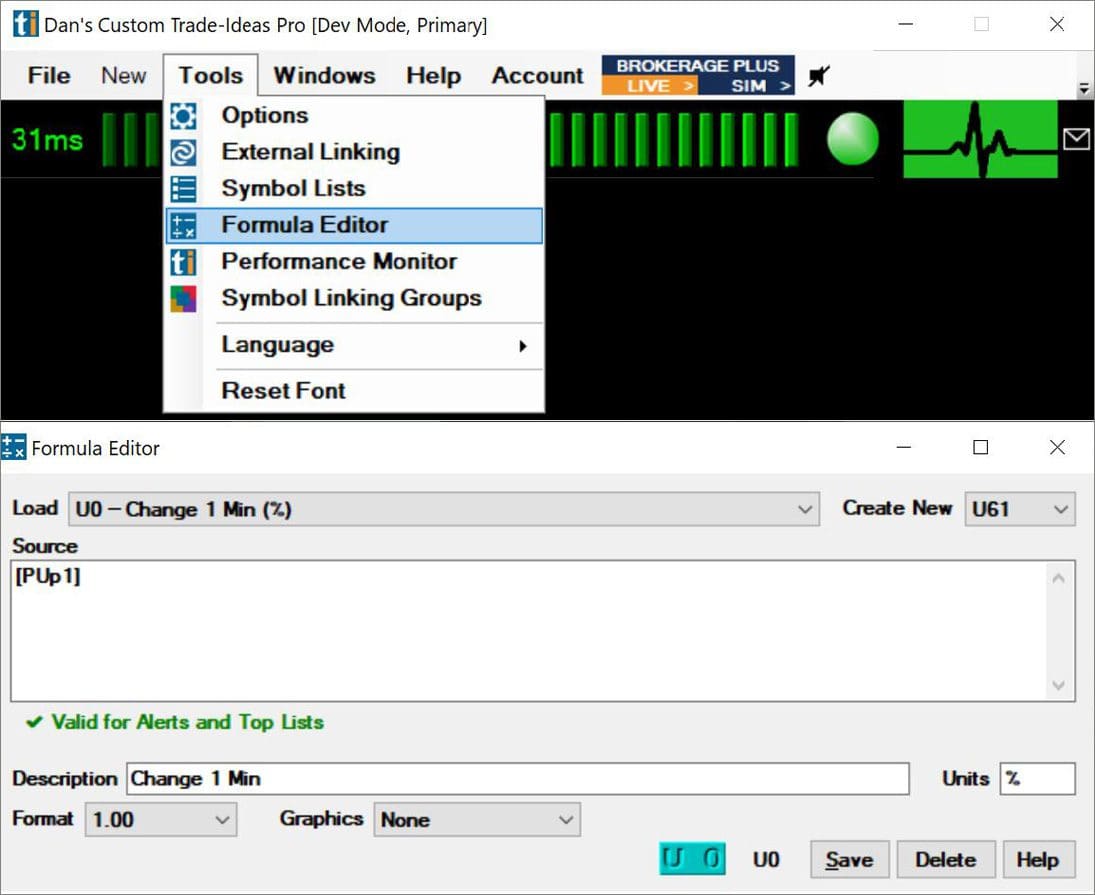 The Formula Editor Help window should open relative to the Formula Editor window and in the same screen as the Formula Editor window.
Add User Guide option to Trade-Ideas Pro Toolbar under Help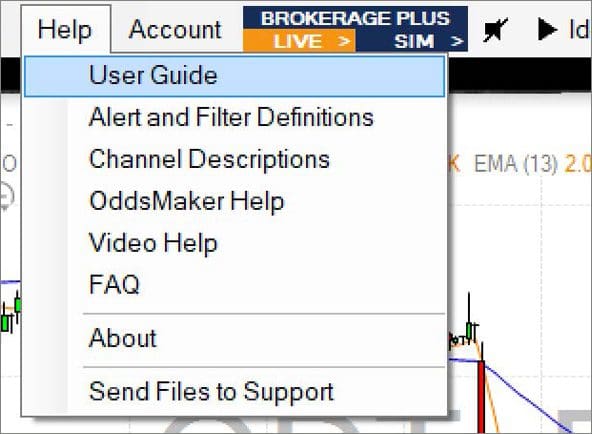 Added User Guide item to the Help menu drop down list in the TIPro main toolbar. Clicking will open the following link in the user's default browser: https://www.trade-ideas.help/ .
Changes to Single Stock Window
Fixed Single Stock Window News tab stealing focus from user symbol linking using down arrow in a TopList window.
All filters are now available to be displayed in the Column Order tab of the Single Stock Config Window.
Changes to Chart Windows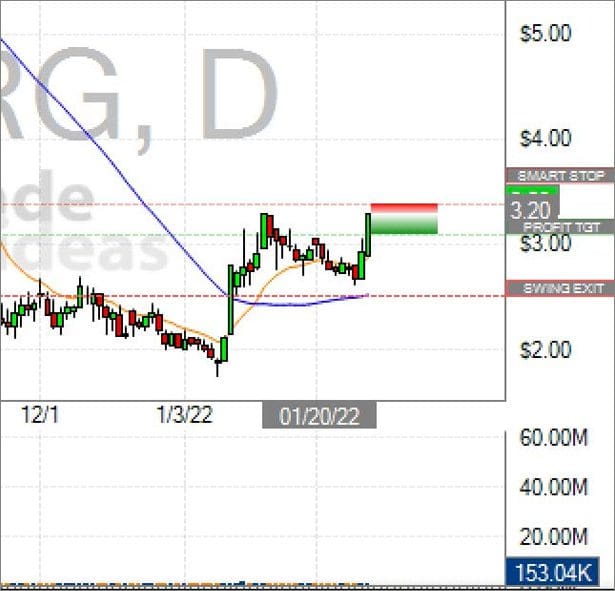 Move Profit Loss Zone to space right of last candle and left of y-axis

Smart Risk zone has been moved to Chart area

Adjust Paintable Area on the Charts

Improve chart area to avoid overlap

Add a delete all option to the markup right click menu

For use on Charts - Context Menu Has Remove all markups
Send Files to Support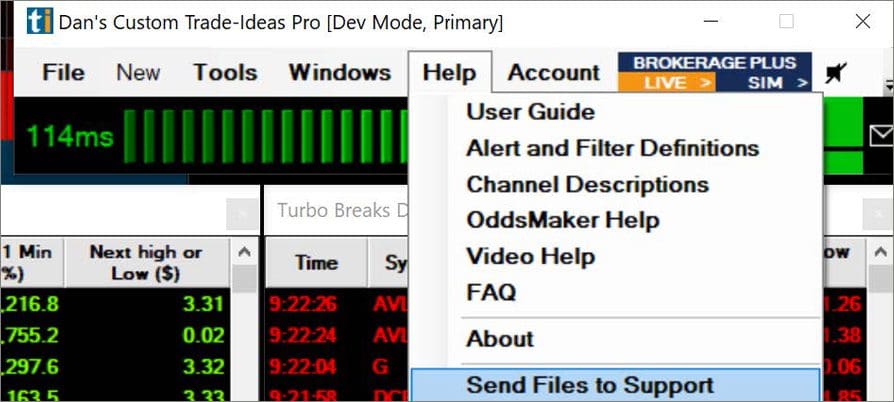 Saving Error Log files and sending them to Trade Ideas for Support Analysis has been improved for better uploads.
SSW Number Formatting for Higher Prices
Improved formatting of higher prices in multiple columns.
Corrected issue where Candles "Jump" on Small Chart Refresh
Download the newest public Trade Ideas Pro AI Beta, Version 5.5.96
The current release works with both 32-bit and 64-bit
This includes some new features which may need additional testing and some improvements to their appearance.
(Includes the new Real-Time Stock Racing)
*A machine reboot may be required following the installation of
this version prior to starting or restarting the software.
Minimum: 
Windows 10
32 bit system bus
1.5 GHZ CPU (dual or quad core)
4 Gigs of RAM
Preferred:
Windows 10
64 bit system bus
2.0 GHZ CPU (dual or quad core)
8 Gigs of RAM
Ideal:
Windows 10
64 bit system bus
2.5 GHZ CPU (dual or quad core)
16 Gigs of RAM
Release notes for Trade Ideas Pro AI Beta, Version 5.5.96
Changes in Beta 5.5.96 (07/14/2022) since the release of 5.5.69 (02/25/2022):
Hidden Columns Appear before AI Strategies, AI Strategy Trades Form is Painted
Set columns not visible by default
Alternative view to traditional top list - the "Stock Race"
Fixed "Index was out of range" exception.
Modified moving of race cars to not set the car symbol color to white at beginning of races. Now car symbol colors should only be red or green.
Add New Filter on Strategy Trades Form for Any Profitable/Losing Trades
Bottom 4 filters added to AI Strategy Trades window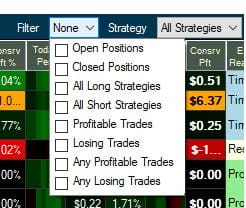 Add Dock Window Symbol Linking Group
Fix for Symbol linking in some docked windows will keep reverting back even after saving my default layout
Dock Channel Bar channels with Single Column Detail SSW do not load completely when the channel loads
Issue fixed
Fixes bug where the Volume and Relative Volume column values are not updating in the Details tab of the Single Stock Window
Single Symbol Configuration Change Doesn't Activate OK Button in Configure Window
Exception Object Reference not set to an instance of an Object
This fixes an issue with the Real-Time Stock Race window.
Hidden Price Alert columns visible at load
Default set to hide specified columns on load. This fixes an issue with the Price Alerts window.
Multiple Price Alerts Deletion causes "Index does not have a value" Error.
Index method has been updated to correct this issue.
New buy sell buttons to replace b-s buttons on chart
Multiple changes to support new Buy / Sell functionality from the Chart.
Smart Risks AI Trades gradient
Multiple changes to support The AI Profit gradient and update display used on Charts.
Add Dock Window Symbol Linking Group
Modified Dock Window and Docked Channel Bar to open with Pink "Dock Window" linking group and icon.
Chart Color Customization
Now defaulting "Color On" settings per Chart Type
Now persisting line width and line color for different chart types.
Fix for indicator new data points not being created when new bars are created in a chart window.
Add Price Data from the Market Data Client to the Charts
Chart Price Data is now updated at a faster rate.
Market Explorer Help page
Update the Market Explorer help page.
Custom saved docked channel incorrectly closes all docks
Fixed issue where loading a docked cloud layout, from a docked channel bar custom channel link, closed all windows when not specified. Now, if a cloud link is a dock window and clear previous layout is not set, the layout will load into the dock channel window replacing it, and other windows will not be closed.
Make the new Order Entry Control as the default in the Positions Grid and Order Entry window in Brokerage Plus

Unable to assign an alert strategy when creating a new trade strategy
Fix the issue where user was not able to add an alert strategy to a trade strategy.
Exception after user edits the alert in a trade strategy but then cancels the trade strategy edit
Fix the exception after a user is editing a trade strategy in which the alert has been replaced with another alert and then the user cancels the trade strategy edit.
Implement B+ Preferences Menu
Adding Brokerage+ Options. Integrating into Order Entry and Positions Grids.
Added new Order Entry Time Stop and Bracket Order images to reflect settings.
Added logic to handle different font sizes on the Options Orders and Quick Buttons tabs. Also added logic to Position grid to handle different font sizes for custom quick buttons.
Added 1/3 Position option to shares popup selection menu.
Quick Button setup form - added logic to only allow user to type number of characters in Name field that will fit on button preview. Fixed Order Entry logic issue in validating order maximums for "Greater of" setting in Options -> Orders.
Made Options->Orders: Match Positions setting default to checked/true. Fixed issue in Order Entry Control with PositionShares not getting set when match positions is turned off and keeping the Positions options from displaying on the Quantity/Share popup.
Options->Orders: Removed Order Maximum dropdown for setting. Logic defaults to Lessor Of logic. Added holder text of "No Limit" in Order Maximum dollars and shares fields.
Created Order Max control to display whether or not order maximums are adhered to or exceeded. Added to Trading Strategy form and Quick Button form.
Fixed logic in quick button Apply To: Symbol Linking.
Applied Order Maximums to quick buttons.
Applied Order Maximums to Trade Strategies in Brokerage+.
Fixed bug in Order Entry control with setting Order defaults for Quantity and Quantity type as Dollars.
Added code to Options form to increase size to accommodate controls (if needed) and make them visible on Orders and Quick Buttons tabs. Also added autoscroll to Orders and Quick Buttons tabs.
Options->Quick Buttons tab: added default buttons to active buttons if none have been previously added.
Order Entry: took out resetting of fields when changing order type.
Options -> Orders tab: Made Limit Price Offset field disabled (but still visible) when Order Type is Stop Limit and Stop Price is None
Adding cancelling of Options setting changes on Cancel or close of form.
Fixed setting of font bold checkbox after resetting font.
Added check on close of Options form or clicking Cancel button to only prompt to discard changes if changes have been made.
Price field increment does not stay at .01. The Increment in the Options settings window, is only for the quantity field, not the Price fields.
Fix for Limit Orders using a TIF (Time in Force) are not timing out. (Cancelling).
Fix was to disable the custom value and increment fields unless Time In Force is set to Custom.
Risk Management Settings Not Translating into Correct Stop and Target Orders.
Settings have been corrected and applied.
Brokerage Plus Target Order placed incorrectly when Target is set to Filter %
Fixed logic in calculating the target price when using filter percentages.
Consolidate smart risk menu choices under properties.
Non-US number format leads to orders not being submitted via the New Manual Order Entry Panel 
Non-digit characters are stripped from the Quantity field when added via popup or default settings. Also, don't allow non-digits to be typed into Quantity field and play beep sound if they type a non-digit.
Control tab order issue in the Quick Button Edit window and the Orders tab in the Options window. Fixed field tab order on Options Brokerage+ Orders tab and Quick Button form.
When a position is closed out using the flatten button, the 'Total P&L" Approx doubles. (loss or gain)  Fixed the "total-profit-doubles" bug in Total Profit.
Add Company logos to Single Stock window.
Turn off show gridline in alert window by default. Change the default GridLine user option to false.
 Corrections to Top List Update for Data Handling Improvements
Made top list update instead of monolithic replace, made comparison symbol wise only.
When clicking on a Holly alert smart risk levels are auto turned off from the charts
Store the historic value of the smartRisk
Restore the historic value when no Ai trade is selected
Alternative view to traditional top list - the "Stock Race"
When race lanes are moved up they are brought to the top and when moved down they are sent to the back to keep lanes moving up on top of the other lanes during the transition. Modifed to re-sort and rearrange lanes every 5 seconds.
Added "Auto Start at Time" feature. When set, race will start running at the configured time each day (i.e. Market Open). Time setting defaults to market opening time.
Added Replay Mode feature. Fixed context menu size. Fixed date/time input fields to obey military time setting in Options.
Modified Replay To field. It is now automatically set by setting Minutes to Run and Replay From fields. Tooltip added to Replay Mode checkbox with instructions.
Fixed issue with Replay From validation displaying on loading new race form.
Added "Show Company Logos" option to race setup. When selected, company logos will replace the race car images during the race. If a logo is not found for a symbol, a color will be generated based on the symbol.
News Tab Text Cut Off On Resize
Fix news article trimmed text
Single Stock Window Configuration improvements
Add extension method to interleave irregular lists. Improvements to column layout.
Add Send Files to Support function directly from Error Dialog windows.
Create a custom dialog form for error display use.
Single Stock Window Profile and Business Summary spacing issue.
Changes to correct layout and spacing issues for the Single Stock Window Business Summary tab.
If the Global Settings request returns no response, then the default layout is never loaded.
When starting TIPro, in the event when GlobalDataSettings are not received from the server or when the server is not responding, the default layout will load after 10 seconds.
Horizontal Line (Chart Markup) disappears when assigning a custom color.
Fix for issue when changing Horizontal Line (Chart Markup) line color disappears after scrolling
Default Chart Window
Updated the default chart window file for Single stock price action similar bug.
Wait for price update before activating price action
Blank Windows in Docks and User has Saved Docks with Chart windows not displaying correctly.
Changed "Save or Share to Cloud" so that users cannot deselect child windows in dock windows.
Fixed issue with some invisible docked windows not showing in save to cloud and performance monitor windows.
Modified displaying of open forms in SaveToCloud form to keep docked windows together and in correct order.
Handle the case where disposed forms are being displayed in the list of open windows.
Column adjustment on the Similar tab of the Single Stock window. 
Replaced company column name with Change From Open % in Similar tab of Single Stock window. The Change From Open % column should be placed to the immediate left of the Change From Close % column.
Order Entry Panel Elements are Cut Off with Bold Text Settings
Changes to correct Order Entry Panel configuration with variable text settings.
Improvements made to Primary Connection to improve server connection reliability.
External Linking to IB TWS corrected to resolve linking issues caused with other platforms and resolve issues saving linking to TWS.
Updated Compare Count window default configuration.
Corrected issues with Dictionary file to resolve "Index was outside the bounds of Array" exceptions.
Add Replay Mode to Real-time Stock Races.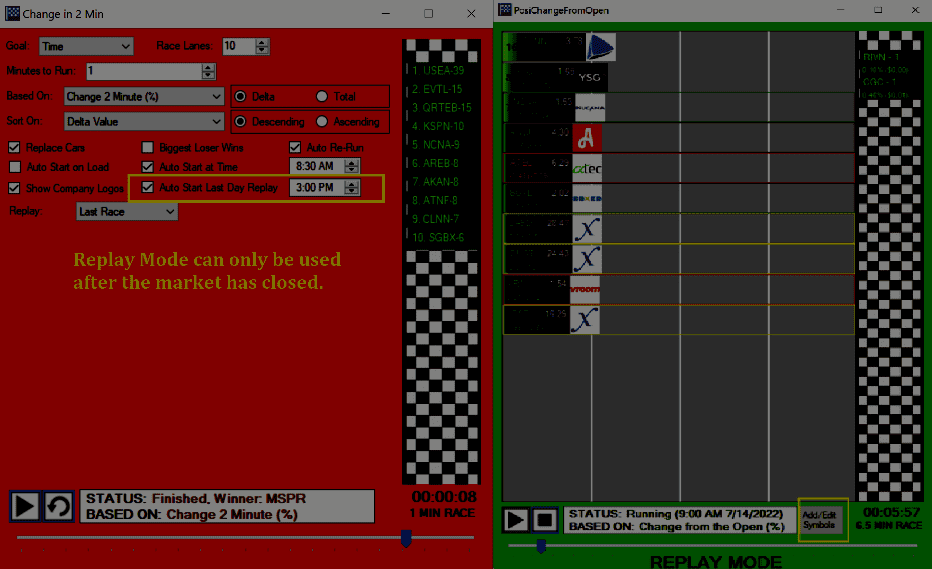 Corrected issues with German Language settings for the TI User Interface to correctly revert to selected language.
Added Notification Window function to allow User Notifications from Trade Ideas. This will allow Trade Ideas to display messages to Users directly within the Trade Ideas program.

New Window or Graphic for Tracking AI Trades Longer.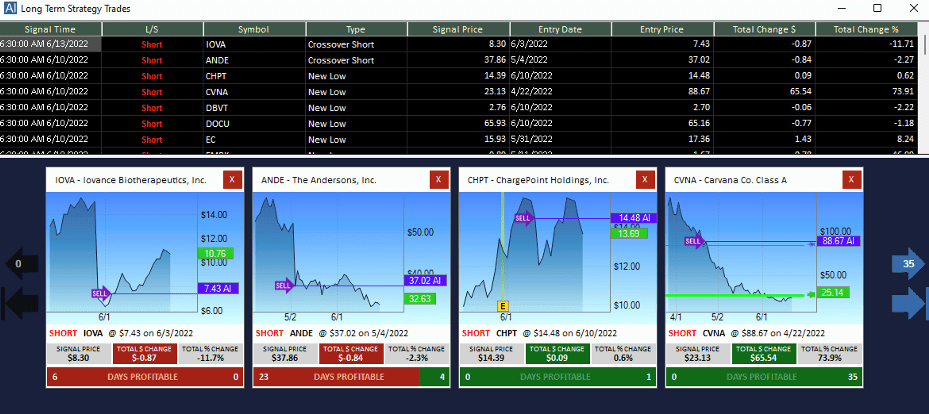 Dock Windows with Channel Bar doesn't retain Symbol Linking Color Changes. Fixed the symbol linking to restore color persistence.
In Brokerage Plus, Colorize the +/- Pos % column (red / green). Apply Color gradient to the +/- Pos % column.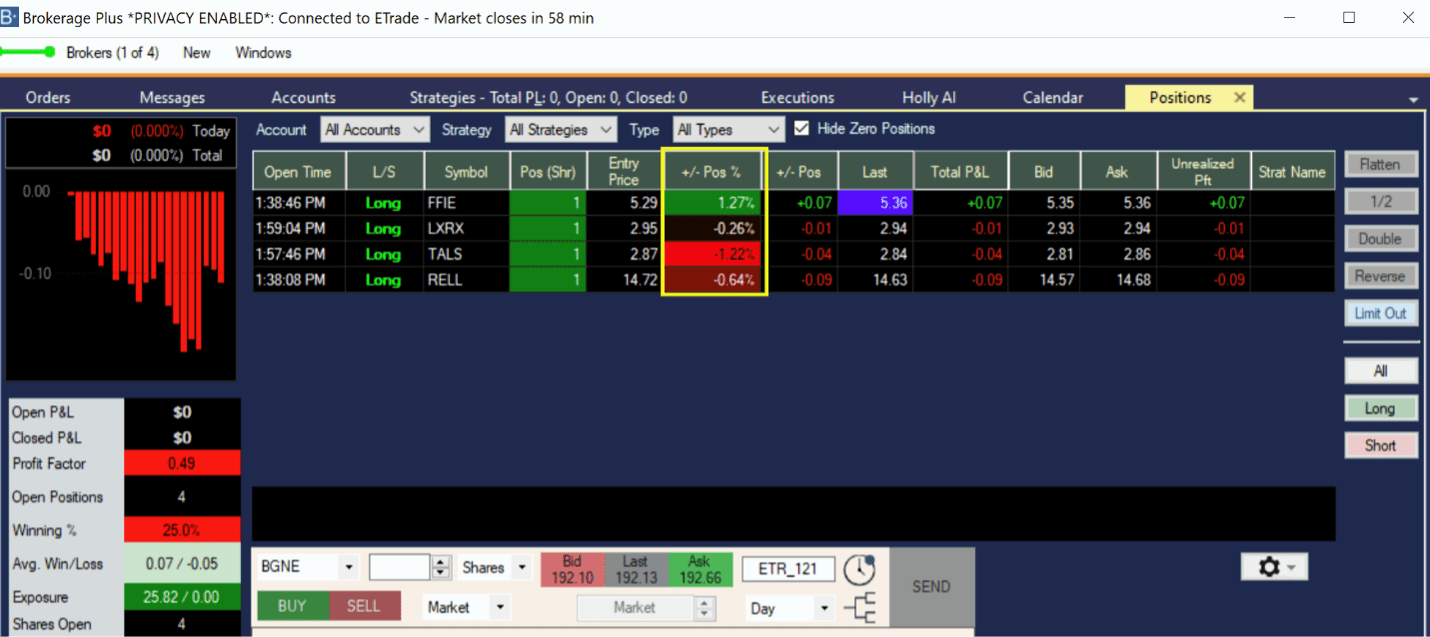 Improvements to the Top List Freeze function to fully "Freeze" the top list.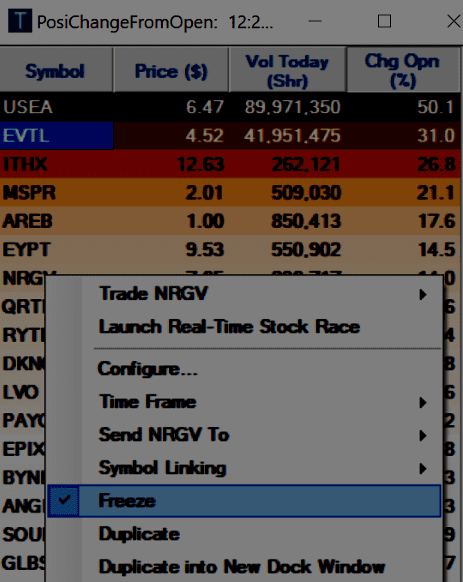 Improvements to the Similar tab of the Single Stock Window to make the comparison more clear.


Fix exception caused when adding or removing alerts or filters in the Configure window for Alerts.
Streamlined Channel bar - Show More - Show Less options. Added an option to expand or compress the Channel Bar with show more and show less options.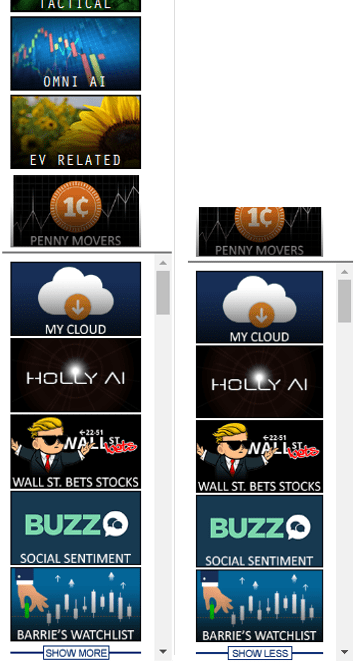 All time frames on charts lose the price when zoomed in. Fixed issues causing the price annotation not to display correctly in Charts.
Single Stock Window Showing 2 'Volume' Numbers - Remove stale volume data in the Details tab of the Single Stock window after user changes to a symbol that does not require the volume data to be present in the table.