What Makes this Trade Great: A Deep Dive into SGD
What Makes this Trade Great: A Deep Dive into SGD
Hello there, it's your good old buddy Barrie Einarson from Trade Ideas back with another insight-filled episode of "What Makes this Trade Great". Today, we're going to take an in-depth look at a recent trade that truly shone – SGD.To Subscribe: https://go.trade-ideas.com/SHQ
Use Promo Code BARRIE25 for 25% off
A Winning Trade Picked by our AI
Talk about striking gold with a trade, SGD was primed for success. Picked up by our advanced AI at 1.79, it turned out to be quite the find. Can we just take a moment to marvel at what SGD has been up to? Its behavior on the stock market has been both intriguing and gratifying. With several halts on its trip uphill and a few more on the way down, SGD has certainly been a wild ride.
But hang on just a minute. Let's flashback to where it all started. Indeed, our AI had all eyes on SGD at 1.79. Noteworthy is how this aligns with the ten-day daily breakout a bit later at $2.
"Our AI picked it up at 1.79, and it's been one attention-worthy journey since."
From momentum scanners to AI picks, SGD was a blip that kept popping up, making it an obvious choice for tracking.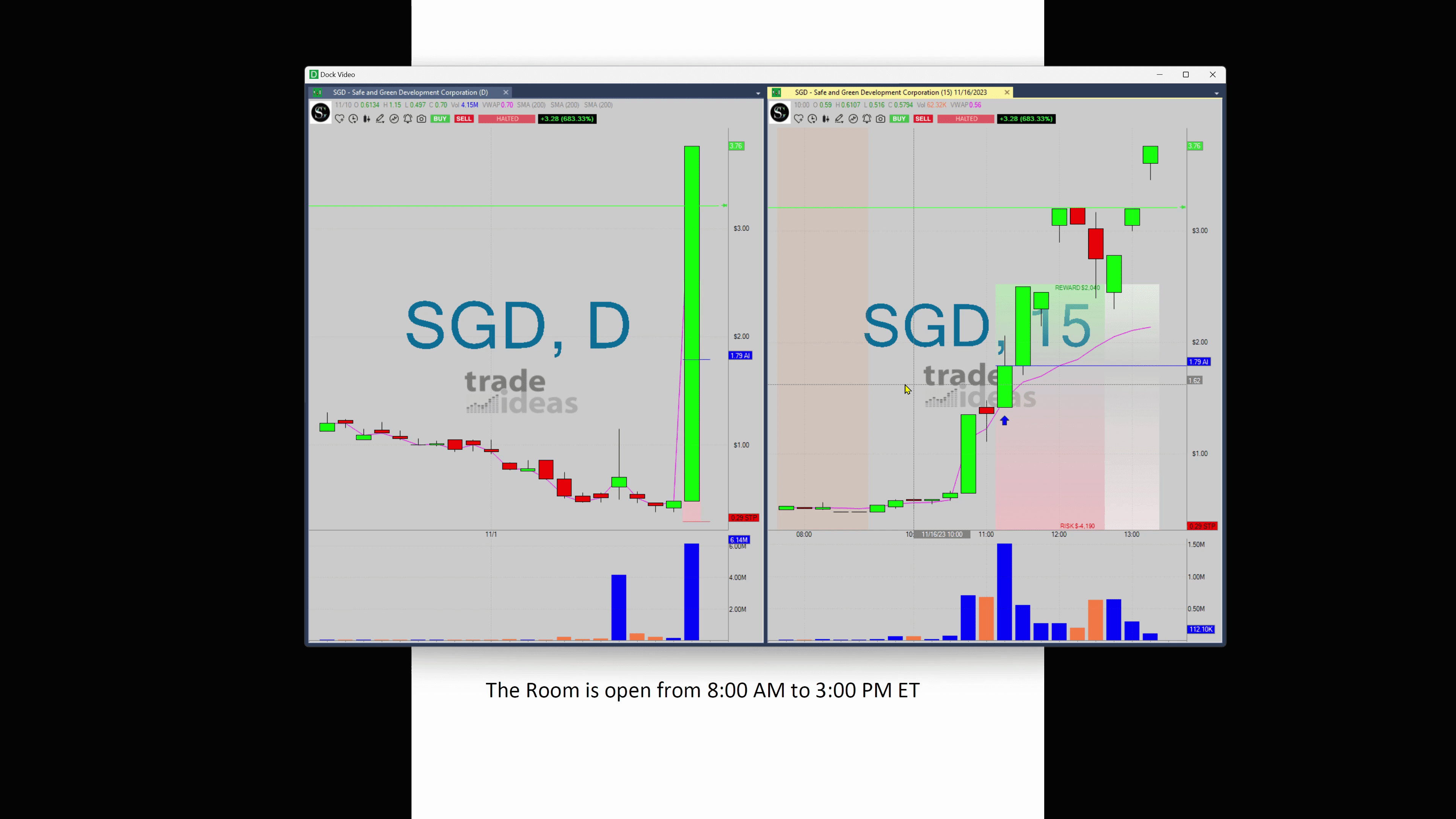 The Impact of Our AI on the Trade
Let's break down the impact our AI had on this fantastic trade day. Here's the scenario – we're assuming an investment of $5,000 in each of these stocks, SGD being chief among them. With SGD alone, the gain ramped up to a whopping $6,000. Sounds like an unusual occurrence? That's a moderate day in the trade world amplified by our AI technology.
"With SGD alone, we made a gain of $6,000."
Exciting, right? But remember, the key to successful trading is not just entering at the right time, but also knowing when to exit.
Looking back at the SGD journey for the day, it's clear that our Artificial Intelligence has skyrocketed trading to another level.
The Future of SGD – An Analysis
At this point, you may be wondering, what's next for SGD? Well, your guess is as good as mine. We saw the halt at 3.76, and the projected open as per time and sales from Interactive Brokers could be somewhere around 4.50. But as we know, when it comes to stocks, anything could happen.
Interestingly, SGD is not a newcomer in the form of an IPO. Instead, it rode off the coattails of another entity as a spin-off. Much like an IPO, it made a strong impact, adding another layer of unpredictability to its story.
The run for SGD was, in a single word, incredible. A golden alert from our AI at 1.79, and who knows where this thrilling rollercoaster ride will go next?
To wrap up, today's exploration of SGD has been an exhilarating one. Hopefully, you can apply some strategies and insights garnered here to your future trades.
Parting Shots
Time to reconvene back in the room. Here's to hoping you learned a thing or two about the wonders of trading, particularly with SGD.
Remember, every day is a new opportunity to take on the market, one trade at a time.
Thank you for reading and catch you in the next post!
"Each trading day brings new opportunities. Looking forward to more insightful takes like SGDs."
That's all for today, folks. Enjoy your evening, and we'll regroup tomorrow. Till then, happy trading!