A Deep Dive Into a Great Trade: Hawaiian Electric
A Deep Dive Into a Great Trade: Hawaiian Electric
Hello everyone! Barrie Einarson here from Trade Ideas, back with another edition of 'What Makes This Trade Great.' Today, we have an interesting case on our hands – Hawaiian Electric. feel free to explore my Home Page, where you can acquire Trade Ideas scanners at a discounted price of Use Promo Code Earlybird30
Hawaiian Electric's Tricky Tactical Trade
Hawaiian Electric has recently faced heightened scrutiny, following the unfortunate events of the fires in Maui. Initially designed as an earnings play, the trajectory of this trade took an unexpected turn and subsequently began to tank. This was highlighted by an alert from our AI at 1257.
The intriguing aspect of this trade was its initial behavior post-alert. Unconventionally, it rallied, spiking back up to 13 – a move that might have left a lot of traders surprised. My recommendation to traders was to place an alert back at the original trigger price of 1257 with a strategy to short the stock, should it slide back to this mark.
And it did – sooner than expected, the price soon navigated its way back down and hung around this area for a while.
A Tremendous Short
After a short period of oscillation around the alert price, we witnessed a tremendous short. A context that was anticipated to be an earnings play was deferred as they decided to postpone the earnings release date, which understandably, didn't get a favorable response from the market.
This led to a significant drop in its share price. But if you've maintained a close eye on this one and witnessed the upward surge, you might have thought it was a lost cause. But if we look closer at what happened next, we see that the price obediently adhered back to the alert short price.
This gives us insight into a significant aspect of trading. Sometimes, stocks will appear unruly, but disciplined traders who stay alerts reap benefits.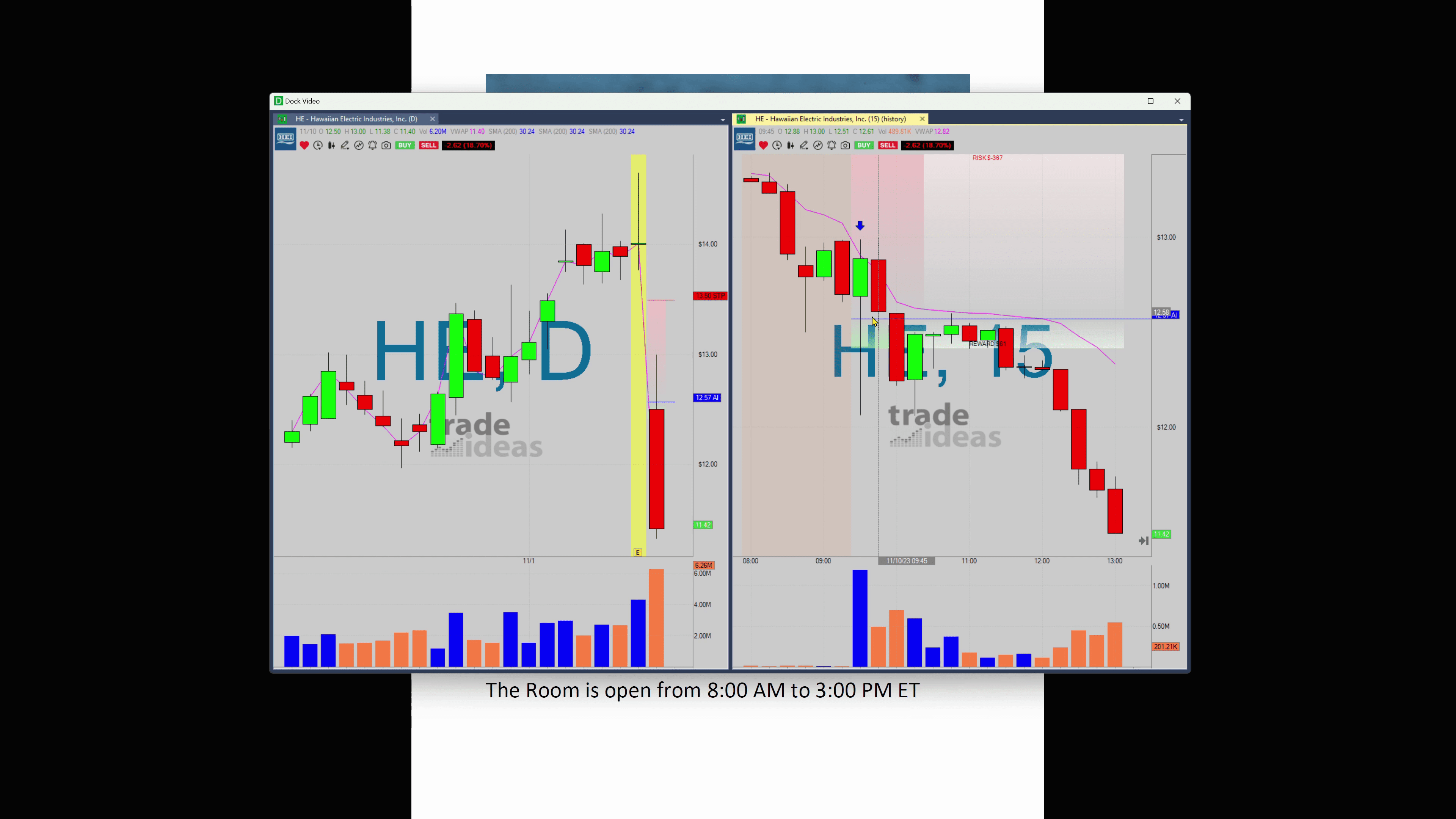 A Gratifying Percentage Move
Following the drop back to the alert short price, we see a remarkable percentage move. Dropping from 1257 down to its lowest at 1132, we see a rewarding percentage drop.
In essence, the moving pieces of this trade have unraveled a fascinating story of a formidable short. This provides a telling reminder of the dynamic nature of markets and the importance of staying alert, reading signs, and sticking to a robust trading strategy.
We hope to bring you more such interesting dissections and help you navigate the unpredictable, yet rewarding world of trading.
"Remember that the starving artist is a starving artist for a reason. In our business, it is all about fluctuation and missed opportunities." – Barrie Einarson
And that's it for this week, traders. I hope you've enjoyed the test drive of analyzing Hawaiian Electric's intriguing trade. We'll have one more week of it next week. Have a great weekend and we'll see you next week. Happy trading!