Special Offer for Scottrade Users
Do you use ScottradeELITE? Trade-Ideas is provided free as part of ScottradeELITE. You do not have to download any software from Trade-Ideas or sign up on the Trade-Ideas web site. Sign up through Scottrade to access Trade-Ideas today!
To use Trade-Ideas, look for the Trade-Ideas icon on the ScottradeELITE toolbar.

Click on this icon to create a Trade-Ideas window, like the one shown below. Click on this multiple times to create multiple windows.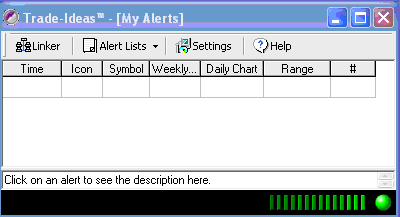 Notice that the bottom part of this window contains the same data and features as Trade-Ideas Pro. The top part contains a standard ScottradeELITE toolbar. You can use this to link the Trade-Ideas windows to other Scottrade windows.
Click here for more information.