Working from Home
Most users who are working from their homes will not need any special settings to use Trade-Ideas Pro. The software will automatically work with a Linksys, Netgear, or similar firewall appliance.
The following information is primarily aimed at people who work in an office. Your system administrator will know which settings apply to you.
Ports
By default the software makes only one type of connection to the server: All data is transferred over a TCP/IP connection on port 8888.
If port 8888 is not available, there is an option that uses only HTTP data. This is less efficient than the previous option, but all of the functionality is still available. To use this option:
Go to the Trade-Ideas Pro toolbar and select "Options..." from the "Tools" menu.

Select "Connection" from the left side of the Options window.

Check the checkbox labeled "Use HTTP port 80 for connection".
All connections are initiated by the user's machine; no incoming connections are required.
Proxy Servers
In some offices you need to use a proxy server to get to the Internet. Trade-Ideas Pro supports SOCKS4, SOCKS5, and HTTP proxies. If you need to use one of these, use the Options window to give Trade-Ideas Pro the necessary information.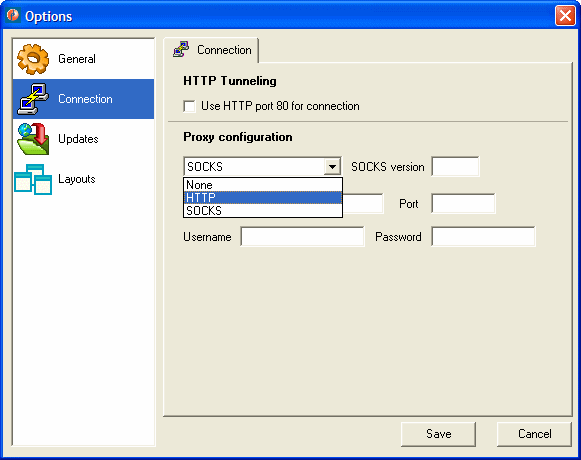 Upgrades
We are constantly adding incremental improvements to the Trade-Ideas client. Many of these help the client work with different types of proxies and firewalls. If you are having trouble connecting, please make sure you are running the most current version of the client.